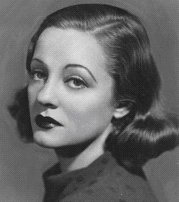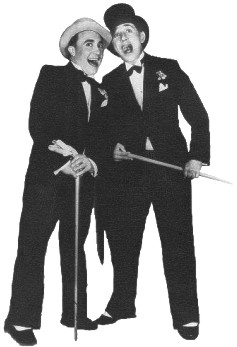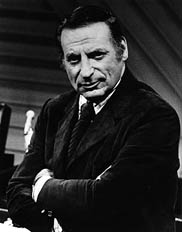 The Air Force had made a very careful publicity stunt out of this thing. In every major city, certainly Chicago being one, they had newspaper photographers meet us at the troop train coming from California and take our pictures and run stories in the newspapers and do all those kinds of things to give publicity to the Air Force for having ended the war.

And one of the things that we had to do, Al and I, because we were from the Chicago area, was to go to a Chicago Bears football game and during half-time be interviewed by 
Irv Kupcinet
, who was then doing the color, which we did do. He also had up in his booth a comedy team by the name of
Olsen and Johnson
, who were traveling across America doing a revue. And we met them; they were very nice to us, and said, "We want you to come and see our play. There will be tickets at the box office for you tomorrow night."  It was a Sunday night. We went to see it and enjoyed ourselves. And they said, "Be sure you come backstage afterwards and say hello to us at our dressing room" which we did. They took pictures of us. Backstage, there was a woman dressed in a mink coat talking to them and kissing them and all that good stuff, and her name was 
Tallulah Bankhead
.
And in the 1940's, Tallulah Bankhead was the biggest star in America, on the stage. So, she met us. "Well, you must come and see my play tomorrow night" she said. It was Sunday night and her play was dark; she played Monday through Saturday.

So the next night, my girlfriend Pat, and I, and Al and his girlfriend went downtown and saw Tallulah Bankhead. Pat was also at the Olsen and Johnson play. We saw Tallulah Bankhead and then we went backstage and she said, "Close your eyes; I'm going to change my clothes." So we closed our eyes, and didn't peek, but the girls were allowed to look. And they saw her take off the dress that she had worn on stage and she had no underwear; she had no clothes on underneath; she was naked! And she put on another dress with no clothes on underneath. They told us later that she didn't wear underwear.

I met Al Barsumian in the service. And that's the interesting thing; he was from Evanston. I was born in Evanston, but lived mostly on the north side of the city of Chicago. The only reason I was born in Evanston is that my mother's doctor worked at St. Francis hospital there. Al lived in Evanston with his parents who had a rug company. They sold rugs and they cleaned rugs up on Central Street in Evanston. I never knew Al and he never knew me, and we reported for duty on February the third of 1944 at Fort Sheridan. I met him, and we became good friends, and my golly! You know, we lived practically next door, his serial number was just a few digits off from mine; mine was 16187638 and his was 16187945. And so we became lifelong friends. We went to training together, ended up on the same combat crews together, flew our missions together, got discharged together and became good friends together.

The only philosophy I ever picked up along the way was from Al Barsumian and I used it ever since. In fact, most of the time, I don't even give him credit. What he said was, "Whatever you do, do the very best you can do because your signature is on it." Even if you cut the lawn, cut it right. If you wash the dishes, wash them well. Put them away just right.

So then I got out of the war three months or so later in Roswell, New Mexico, and came back to Chicago, got my old job back on Captain Midnight and started to look for work on other programs. I didn't realize that during the time I was gone in the Air Force most of these programs had either gone off the air or had moved to another city for origination. That is, with the exception of the kid shows. The kid shows were still left in Chicago. But the soap operas - there were twenty-three when I went in, each day on foreign networks when I went in the service - there might have been two or three left in Chicago. The rest had either gone off the air in favor of television, or they had moved to New York because the actors wanted to go to New York, they wanted to get on the stage  so there was very little work.

Anyway, in 1948, Pat and I got married. Big wedding with lot of actor friends there.
Mike Wallace
and his wife were there, Captain Midnight was there; all these people and it was a beautiful wedding; it was just lovely. It was on the lakeshore at the Shawnee Mission Country Club. We first lived in a penthouse apartment at 626 North Winthrop and it was very nice. And then, she became pregnant with Kirby and we were so worried. Because in those days, if you did not have your insurance in force for 281 days, or whatever the number was, you weren't covered. Today, you can get married tomorrow and have a baby the next day and your insurance will cover you. You had to be not pregnant when you took the insurance the first place. So now she's ready to have the baby and she's getting cramps. So we call the insurance man who was a friend and said, "What do we do about this and the doctor?" And he said, "Go to bed! Don't disturb anything, because if you do, you'll have to pay for this." As it turned out, the baby wasn't born a few more weeks.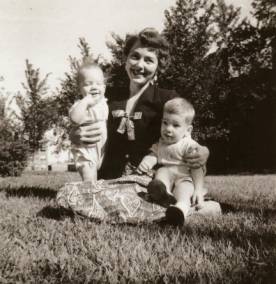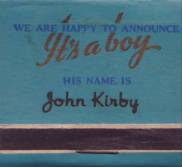 And we were married for about eight years I guess, I can't remember exactly, but things didn't work out, and we got divorced.

I was single for three years and lived most of that time with my parents at an apartment that they were renting in Skokie. I could see then that I didn't leave the radio industry; it left me! There was no way I could make money when there were no programs to work on. Television was here and was coming from New York and the West Coast. So, I got hooked up with a program called
Sky King
. It was about a cowboy who flew airplanes. He had a boy and girl in the cast and the boy's name was Clipper King - I was Sky King's nephew. And I was on their program for five years, until 1955.  
Pat with Kirby and little brother Scott